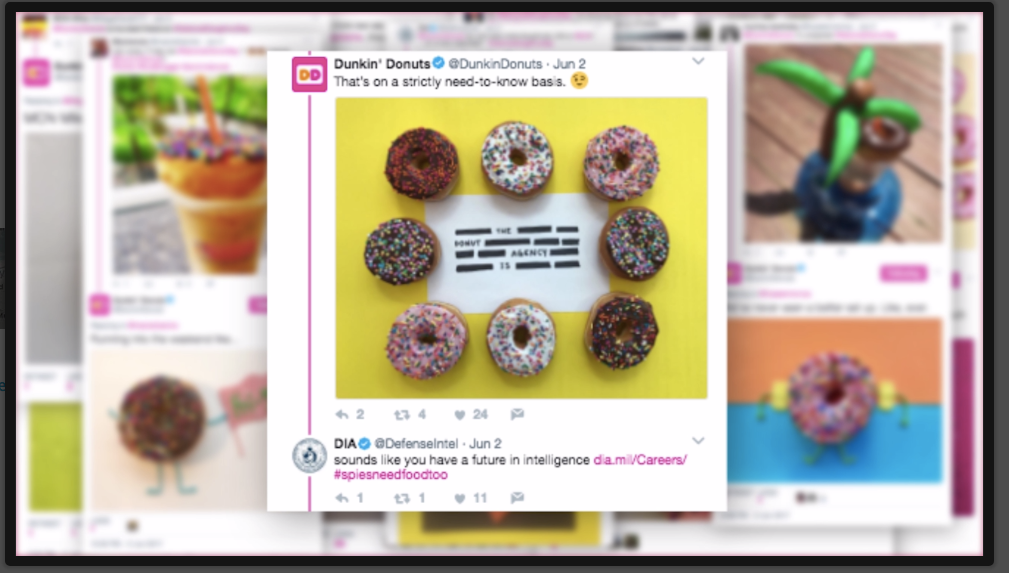 One of the first orders of business when I came onto the Dunkin' account was to implement a brand video strategy. The primary goal here was to help the brand pivot from a TV-first mindset, in which we showcased each month's LTO (limited-time offering) product, to more of a portfolio approach that allowed for the brand to more readily participate in culture, be present in the spaces and channels where its younger audiences were already spending time (read: social), and embrace working with a range of media partners, creators, and influencers who would be able to translate the beloved brand's ethos of positive energy to their audiences.
In doing so, we knew that we were never going to abandon our LTO shoots – they were the hard-working assets that helped move foot traffic in stores. What we were more intentional about, however, is stressing a "one shoot, many iterations" approach, deploying b-teams on broadcast shoots to collect an entire arsenal of social-ready, lifestyle-driven content to supplement the harder-hitting messaging of the :15 TV spots.
A combination of owned and borrowed interest, higher-touch and more nimble and culturally responsive production, this strategy helped us both maximize our production dollars while also placing the brand in more relevant spaces. The culmination of this approach came on National Donut Day, when we set up a content workshop war room at the agency and created hundreds of pieces of video and still content in real time throughout the day, leading to 6.5 million brand engagements in a single day and (at least partially) resulting in the 6th highest day of DD foot traffic ever and the #1 day of beverage sales to date.
Role: Content Strategy Lead